Syrian refugees in Turkey showcased their new skills in apparel manufacturing at fashion shows
05.11.2018
ANKARA, 27 September 2018 – Fashion shows are not often associated with development projects, but it made perfect sense today as a group of Syrian women refugees showcased the skills they acquired through a vocational training in apparel manufacture. The project in Turkey was funded by Japan and implemented by the United Nations Industrial Development Organization (UNIDO).
The event was however much more than a display of fashion creations. It was an opportunity to reflect on how the training has helped Syrian refugees regain the sense of pride and hope that has been washed away by the events that forced them to flee their country to find refuge in Turkey.
"When the war started in Syria, it was closer to us than we thought. The Turkish people approached us in a brotherly manner and we felt very close. We ran away from the situation and we settled in Turkey," said Mecid Abdulkrem, a graduate of the vocational training, at the event. "We started living in camps and times were difficult. This course was very important for its psychological and vocational contributions. Now we have hope for the future and we would like to thank all stakeholders of the project."
The Ankara event was the second of two fashion shows organized this week. The first one was held in the Kahramanmaraş refugee camp where the vocational training centre was established as part of the project.
Implemented in partnership with the Disaster and Emergency Management Agency of Turkey (AFAD), the Ministry of National Education (MoNE), the Istanbul Ready-Made Garment and Apparel Exporters' Association (IKHIB), the Turkish Labour Agency (IS-KUR) and the Mediterranean Association of Solidarity and Assistance for Refugees and Asylum Seekers (Akdeniz Mül-Der), the project aims to improve the livelihoods, social stability and resilience of Syrian refugees living in Turkey – in particular women and youth – by providing them with skills to help them find work so they can provide for themselves and their families. The training course focused mainly on sewing machine operation, equipment maintenance, pattern-making and production management.
"What we target with lifelong learning is for the individual to have a high quality of life and to be able to sustain this life. For this, you need to acquire skills and information," said MoNE representative, Cihan Kıvanç.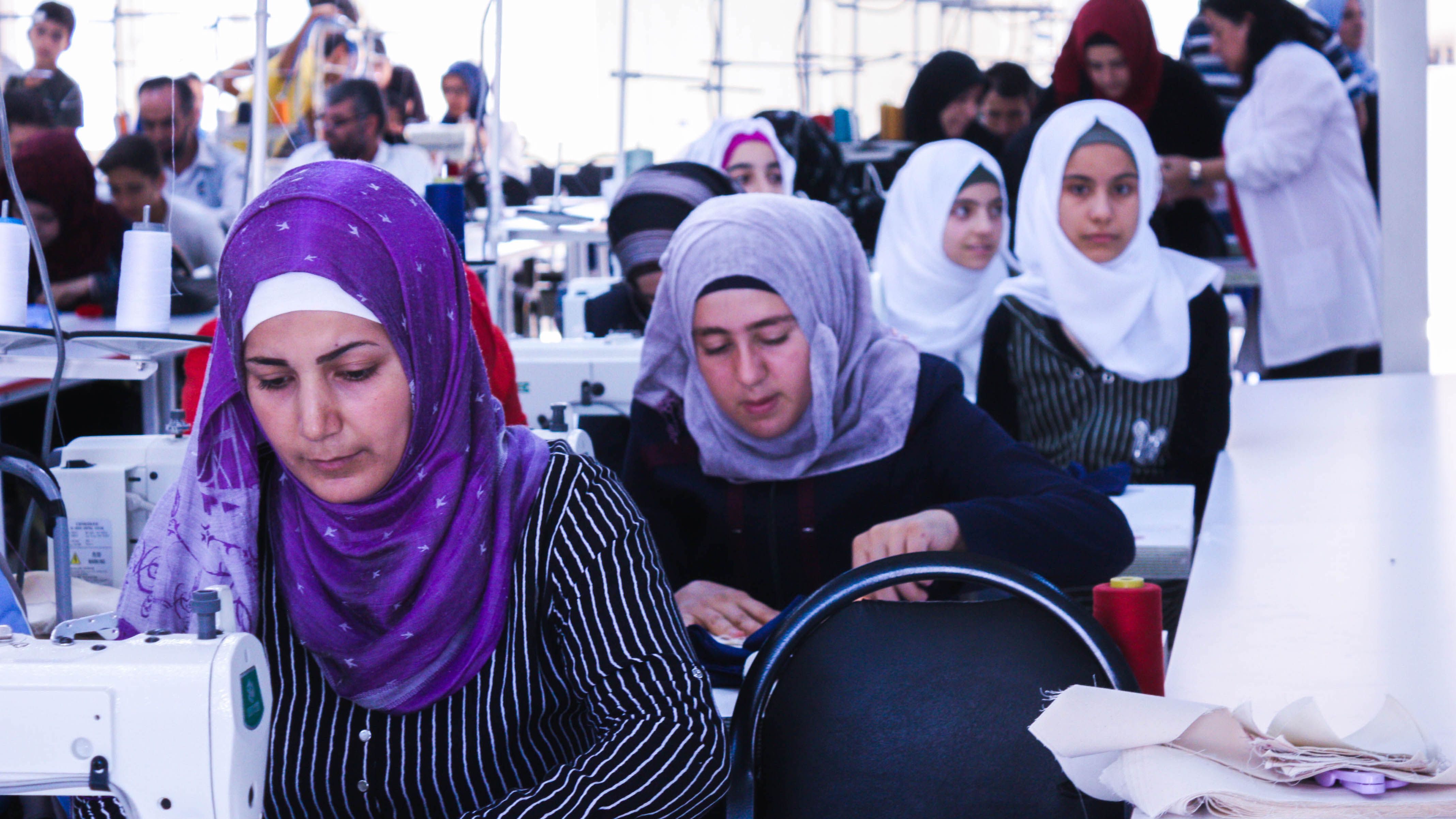 Around 1,000 people graduated from the course, out of which 350 attended a seminar on how to set up a business and apply for work permits. All the graduates were also registered for the employment pool, run by the Turkish Labour Agency in Kahramanmaraş, an important step in finding a job.
Twelve people received training from UNIDO experts so that they can act as trainers and so ensure the sustainability of the training courses beyond the project's completion.
"This is not the end. These training courses should be maintained and the responsibilities are now being transferred to the MoNE," said UNIDO Representative in Turkey, Suleyman Yilmaz. "We believe that this has been the first phase. There should be a follow-up focusing on production, manufacturing and marketing. All these women can come up with magnificent work and we would like to show all these products on the international level."
"Japan has been advocating the human security approach. It aims to protect people from critical and pervasive threats to human life, people's livelihoods and dignity, and to enhance human fulfillment and women's empowerment," said Japanese Ambassador Akio Miyajima. "I am really happy to be here as a major donor for this UNIDO programme, which reflects this human security approach and has produced the most impressive results."
The project stemmed from the positive results of an initial phase, which saw vocational training centres established in Gaziantep-Islahiye II, Sanlıurfa-Harran and Kilis-Oncupinar Provinces in 2015. Combined, the centres have trained more than 2,100 refugees, making a real difference to their lives and that of their families.
Find out more about the project here.
For more information, please contact:
Mehtap Akgun, Programme Coordinator, UNIDO